CH. Jester's Ulterior Motive
(Ch. Cymbeline's Viva Las Vegas x Jester's Whiter Shade of Pale).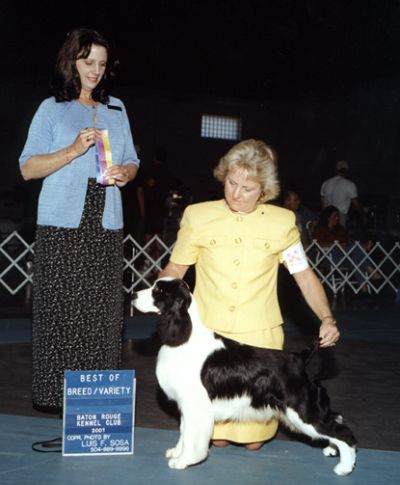 This is "Binnie". We are very excited to announce she will be joining us at Promise Kennels in March, 2005. Binnie completed her AKC championship with her breeder/owner, Lynda O'Connor. Lynda has been wonderful to us, showing our other Springers and has, along with Binnie's second mom, Lyn Spees, graciously agreed to let Binnie come to live with us! Binnie is a black/white bitch, Born 8/9/2000. According to Lynda, "Once she learned how to walk on a lead and forgot about her own "Ulterior Motive" we got down to business and finished her Championship in a short time." Binnie's eyes are clear and hips are good. She will be bred to Junior (UCIB Int'l CH/AKC CH Promise's Junior Maverick, pictured above) in late Spring/early Summer, 2005.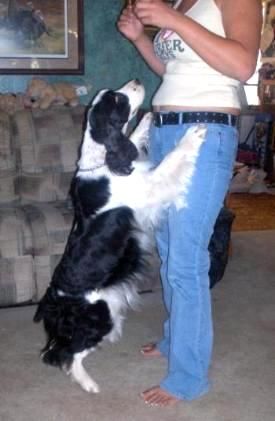 Binnie at 5 weeks pregnant with Junior's very first litter!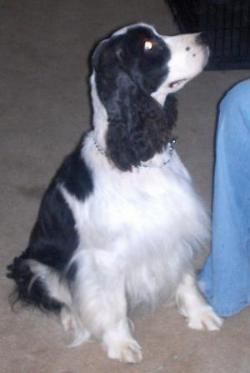 Binnie, Sit, Stay, GOOD GIRL! REMEMBER I am NOT a photographer, and the flash made Binnie's eyes "sparkle"....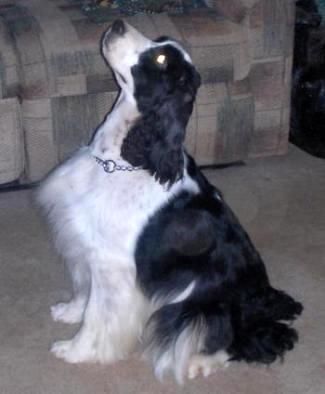 Look at this GREAT "Watch" dog!

ALL CONTENT, COPY, AND PICTURES ON THIS SITE IS COPYRIGHTED AND MAY NOT BE USED FOR ANY REASON WITHOUT EXPRESS WRITTEN PERMISSION. (c) 2004,2005,2006,2007,2008 PROMISE KENNELS