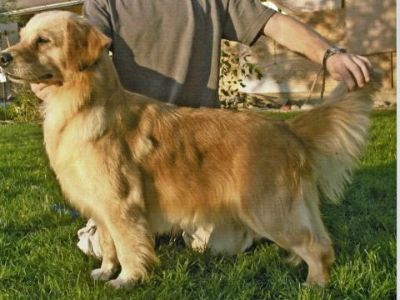 Here's a photo of Skittles, in July, 2007. She is a moderate sized Golden girl. Sweet and unassuming. She is a beautiful medium gold color with lots of feathering, a broad, nicely shaped head, and a smile for everybody! Skittles has stolen our daughter Jennifer's heart, so she will be staying in Sacramento for a while...(Jennifer says "forever")...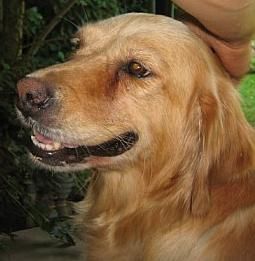 Skittles' head shot, by Della and Behzad, who visited Skittles' puppies when they were 1 week old.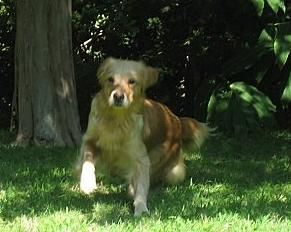 Skittles LOVES to play FETCH.... Della and Behzad spent much of the day playing with Skittles.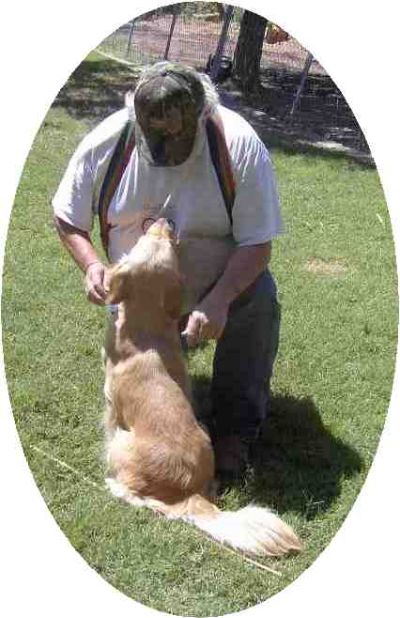 Here is Skittles, all attention focused on Ron. Skittles is OFA hips GOOD, OFA elbows, heart and thyroid normal, CERF clear. Copies of all clearances available!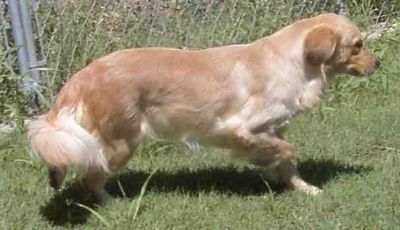 Skittles, on the move (and after she got dry, see below!). She has a correct scissors bite, good topline, tail carriage and ear set, dark black pigment on her nose and around EXTREMELY expressive eyes! Excellent front and rear angulation and well developed chest. An excellent mover, and always that sunny smile! A rich golden, double layered, easy to care for coat.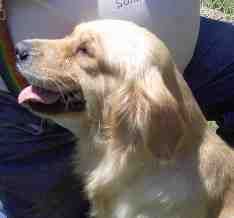 Here's a head shot of Skittles and her smile. The California Sun is shining on her, causing the top of her head to appear quite light, however it is just an optical illusion! We want to improve the health issues that Goldens are being seen with in large numbers. That is why we are investigating some with European bloodlines. We have been very happy with the clearances we have gotten back on Skittles and Angel. We will have to see if they produce offspring worthy of the showring. Always good to get peer reviews and judges opinions!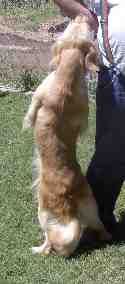 Skittles and Ron... DANCE!!!

ALL CONTENT, COPY, AND PICTURES ON THIS SITE IS COPYRIGHTED AND MAY NOT BE USED FOR ANY REASON WITHOUT EXPRESS WRITTEN PERMISSION. (c) 2004,2005,2006,2007,2008 PROMISE KENNELS